As I made clear in my profile, I am a married woman with a physical disability - spastic diplegic cerebral palsy to be exact. My husband Jason and I have been married for a little over one year; and, like most of the newly married young women I know, I have been chomping at the bit to have children for quite awhile now. Oh yes, the "baby bug" is alive and well at the Young residence. As with most every woman who has never gone through pregnancy or raised a child, I have all of the normal concerns about bodily changes and the pain of labor and keeping a young child from eating the lump on the sidewalk that looks suspiciously like chocolate... However, on top of this, the complications added by my disability to the idea of motherhood have forced me to do some much deeper soul searching.
A question that has quite often come to my mind is this: Is it
fair
to my children for me to become a mother? Is it fair to think about this when my physical shortcomings could, quite honestly, make me a liability to my children? Is it fair for me to enter into motherhood when my limitations will keep me from providing my children with the wide range of physical experiences that I want them to have
with their mother beside them, teaching them
- like hiking and scuba diving and running and swimming in the ocean and jumping rope and ice skating and roller blading.... (Whew, if I make that list any longer, I might break down and cry.) I have heard and read arguments that speak of the irresponsibility of disabled woman for doing just that....being mothers. And the reason they're seen as irresponsible? Because it isn't
fair
to their children.
Needless to say, such ideas are incredibly painful to me because I do not want to be a mother if I have little hope of being a good one. I see motherhood as an amazing responsibility to do the greatest good in one's power; and, so, if having a disability would prevent me from being able to do that, then the conclusion to draw would be that having children would be an act of extreme selfishness on my part. Ouch.
In wrestling over this question and bringing it before God in all of its many forms, He has always quieted my heart with these amazing truths: "I can do all things through HIM who gives me strength." - Phil. 4:13 and "For we are God's workmanship, created in Christ Jesus to do good works, which God prepared in advance for us to do." - Eph. 2:10. You know what this means? It means that, if God wants me to be a mother,
HE
will equip me to be one and give me all the strength that I need to accomplish the task!! And if I believe that God is good and that
everything
He does is good, then this is what I have to conclude: If God, in His perfect plan, chooses to give me children, it will be good,
including
its ultimate impact on my children! What a soul shaking idea! It is unbelievable and humbling to me to think that my disability could be a part of God's good and perfect will for my children; but, if I
really
believe that everything God does is good, I have to also believe that such a thing will be the truth if He gives me children! WOW!
My husband and I have been asking God for His will for our family and have been seeking wisdom from those around us. As far as we can tell right now, it appears as though God is giving us the ok to step ahead in faith and start a family. We are very open to the possibility that He may shut that door as we move along on this journey, but He has given us nothing to indicate that so far. What an exciting possibility! :)
In all this talk about stepping forward in faith, I do not want to give the impression that "having faith" means not making preparations informed by my limitations to the best of my ability. On the contrary, I have been - and plan on - going to great lengths to do whatever research I need to do be the best mother I can be.
Last week, I constructed a training "baby" out of materials purchased at Walmart and Party City. "Practice Peanut", as Jason and I fondly call him, is eight pounds, and his torso perfectly fills out a "onesie" for babies newborn through three months of age that are at least 21 inches long. Jason and I took pictures throughout the construction process, and I would like to let you see them with instructions so that other women with disabilities may make one if they think it would be beneficial. :)
Step 1: Purchase materials.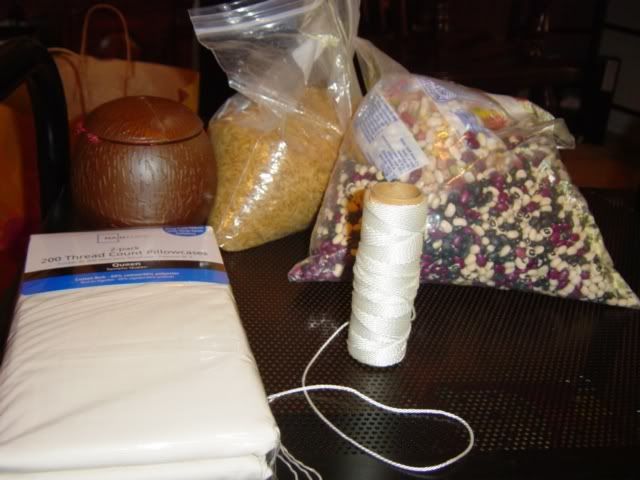 a. 1 Plastic coconut drink glass (think luau...)
b. 4 party favor bags full of marbles (total of two pounds). In case you're wondering where these are in the picture, they're inside the coconut. :)
c. 3 lbs each of rice and beans (Make sure you buy kinds that you like because you'll be eating them at some point.)
d. 1 standard sized pillow case.
e. String or rubber bands. (I started off using string and then changed to rubber bands, so I suggest rubber bands. They hold better.)
f. Masking tape.
g. A newborn to 3-month onsie (optional).
Step 2: Assemble Torso
Put the rice and beans in two 1-gallon ziploc bags.
Use masking tape to secure the two bags together as shown. I would recommend first making each individual bag compact (taping down any extra slack) before taping the two together.
Step 3: Secure "torso" in pillow case.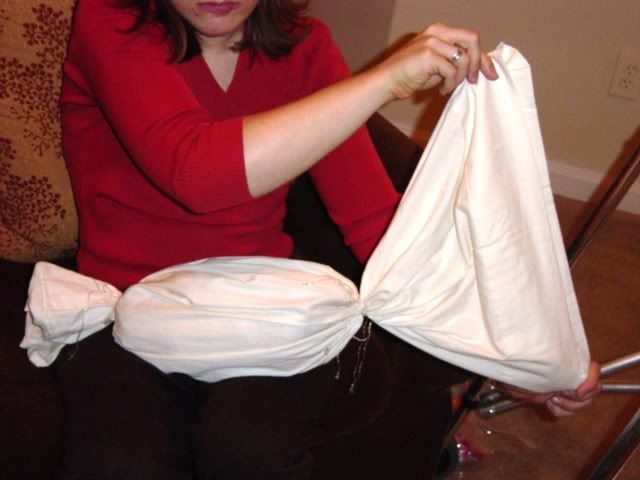 a. Unfold the pillow case and hold it upright before you with the shortest seam down and the opening pointed upward. About six inches up from the bottom, gather the pillow case together and bind it with a rubber band (as shown in the left of the picture).
b. Insert the bean and rice torso into the pillow case opening and rest on of the shorter ends squarely on the secured part of the pillow case so that it is centered there.
c. Gather the pillow case together tightly around the torso, and bind the remaining fabric together with another rubber band so that the secured part of the pillow case is centered with the top of the torso (as shown in the right of the picture).
Step 4: Insert torso into onsie. (Go ahead and skip this if you have chosen not to buy a onesie.)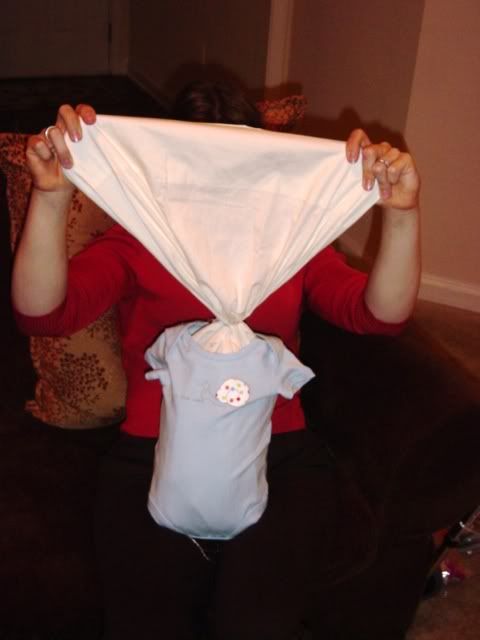 Insert the torso into the onesie as shown so that the opening of the pillow case emerges from the neck opening of the onesie. Smooth the extra fabric from the bottom of the pillow case against the back of the torso to avoid bulging.
Step 5: Insert coconut filled with marbles into pillow case.
a. Insert the coconut filled with marbles into the opening of the pillow case so that the base is resting squarely on top of the cinched off "neck".
b. Use another rubber band to bind the remaining pillow case fabric together so that it is snug around the coconut.
Ta Da! Instant "Practice Peanut"! :) (Just an FYI, you may have to readjust the fabric in the rubber bands from time to time. It gets skewed every once in awhile.)
Oh, and feel free to give Peanut a hair cut. :P
A piece of incredible "equipment" that I recommend for any woman with a disability who is looking at becoming a mom is a baby wrap. I bought one this week at www.theslingstation.com and tried it out with Peanut after it was delivered so that I could practice ambulating while carrying that kind of weight. It was amazing how well it worked! I was able to do everything that I normally would do and carry Peanut without using my hands! Check it out: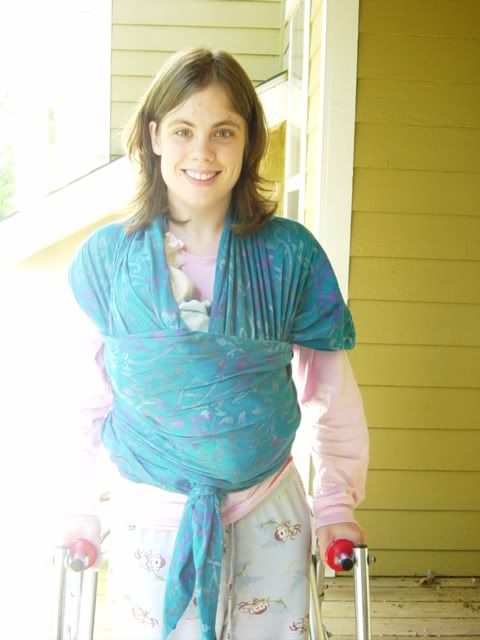 Isn't that amazing?? I've never felt so optimistic about having and caring for my children. If you're like me and have your doubts about your ability to be a good mother to your children, please do not give up! There are resources out there for you to use! God will help you. :)
To Him be the glory!